The three day International Conference on "Leadership and Management through Spiritual Wisdom" started on Friday on a spiritual note at the Khushipur campus of School of Management Sciences (SMS), Varanasi. The Conference was inaugurated by Padmshri Prof. Geshe N Samten (Vice Chancellor-Central University of Tibetan Studies) who emphasised on the training of minds in our educational system which could ignite the core element of having transformation within ourselves. He said that entire source of management comes from innerselves and our educational system should focus on social and emotional learning so as to achieve spirituality.
The programme started with Vedic Chanting by specialised scholars followed by a skit by the Ganga Action Pariwar on the conference theme depicting how the materialism has spoiled our basic necessities of life over the different eras. Prof. Luqman Khan (Vice Chancellor-Mohd. Ali Jauhar University) talked about the necessity of having ecological balance while Prof. B. P. Singh (Former Prof.-Delhi School of Economics) emphasised on having spirituality as a part of curriculum. He further said that elevated soul is the best capital of human society. Later he talked about "Managing from Left, Leading from Right and Connecting through Top" in one of the plenary sessions. He also added that leadership should have a magnetic force to create followership.
Mr. Pragyan Mishra (Retd. IAS ) opined about connecting preaching and practicing to obtain the spiritual path.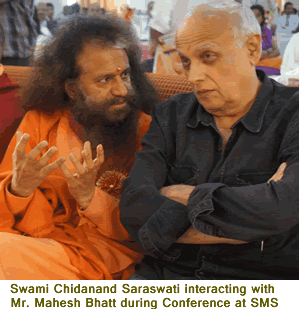 Swami Chidanand Saraswati (Parmarth Niketan, Rishikesh) started his discourses focussing on the pathetic condition of our ganges. He said Ganga is on Dialysis and we are busy in Dialogues. He said we love the creater but forget the creation. Spirituality is not a weekend business, we have to start with selves. Life is to 'be' more, not 'have' more. He asked the modern society to link internet to innernet. Be the change and don't wait for anyone else, was his basic idea.
Renowned Film Director, Producer and Writer, Mr. Mahesh Bhatt said that Spirituality is essential fuel of life. The ecological disaster is because of arrogance of man. He cited several examples from his professional life to illustrate the above fact.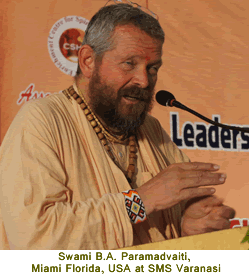 In another session Swami B.A. Paramadvaiti, USA also expressed his views about Spiritualism and its connectivity with leadership. More than 300 delegates were present on the first day of the three day long event. International delegates have come from the USA, Australia, England, Hong Kong, China, Slovenia, Cambodia, Mauritius, Botswana, Oman, Morocco, Sweden, Spain and Brazil. The Indian delegates have arrived at SMS Campus from far away places like Delhi, Pune, Kolkata, Coimbatore, Hyderabad, Warangal, Chennai, Ludhiana, Pathankot, Kochi, Patna, Mumbai, Nashik, Dharwad, Thanjavur, Bhabaneshwar, Guntur, Ranchi, Chitrakoot, Jaipur, Kashmir etc. The entire three day event has been divided into seven plenary and seven technical sessions spread over the three days.
Earlier the Conference Director and the Director of SMS Varanasi, Prof. P. N. Jha welcomed the dignitaries and delegates to SMS Varanasi. In his welcome address, he presented a briefing about the strides which the Institution has made in the recent past to emerge as one of the frontline B-Schools of the country. Discussing the framework of this International Conference, he said that it is an extension of the decadal journey of our Spiritual Centre, whose objective is creation of dyadic relationship between spiritual paradigm and managerial tenets. However, the practice of the proposed model necessarily requires the inculcation of a sense of abnegation within the practitioners. Later on the latest issues of all the three journals of SMS( Management Insight, Purushartha, Computing Trendz ) were released by the dignitaries alongwith the conference proceedings book and the Souvenir.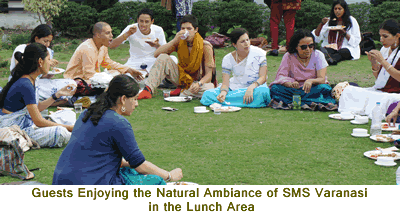 The organizing secretary Mr. Sandeep Singh (Associate Prof.) gave the theme presentation and the Vote of Thanks. The inaugural session was coordinated by Dr. Meenakshi Singh. The Director, SMS Varanasi, Prof. P. N. Jha felicitated the Chief Guest and other Guests of Honour by presenting a shawl and mememto.
A spiritual tour of Varanasi is also on the Conference schedule. A souvenir has also been published covering more than 200 paper abstracts which are being presented in the Conference. Corporate bodies and financial institutions like Union Bank of India, Kashi Gomti Samyut Gramin Bank, Galaxy Hospitals, Career Launcher, IMS Learning Resources, Ganga Saran & Grandsons, Prentice Hall of India and Souvenier De Banaras were the sponsors of the events.


On the second day of the three day International Conference on "Leadership and Management through Spiritual Wisdom" at the Khushipur campus of School of Management Sciences (SMS), Varanasi, Swami Chidanand (Krinshnamurthy Foundation) talked about Spiritual perspectives of Leadership. He said from the material goal at the start of life we slowly move on to inner growth and later to Spirituality. He also talked about the transformational, transactional, charismatic and leader without authority. Quoting the ancient indian texts, he brought to notice the fact that our country is accomodative of all religions and practices of the world. For a leader, the needed qualities are ambition, energy, intelligence, self confidence, honesty, integrity and job relevant knowledge. He said we should stop destructive anger. We should learn to delay gratification, not deny it.

Roberto Bilaslavo (Vice Rector, University of Primorska, Slovenia) opined on Wisdom and Leadership and said that both leadership and management need wisdom. He discussed various levels of leadership like public, personal and private. According to him, to act to bring a common good to all of us is wisdom. He also discussed a wisdom development model for transformational leadership which works in four domains - cognitive, conative, moral and affective. He also said we should learn wisdom by reflection, by imitation and by experience. Mr.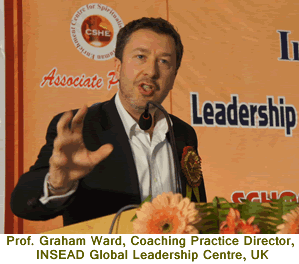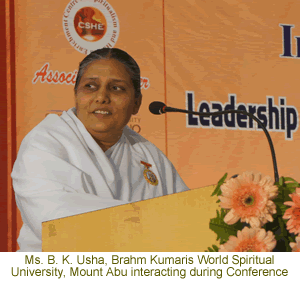 Sandeep Gupta (GM & Head -Corporate Affairs, TCG Lifesicences India) talked about transforming business to perform in 21st century while Prof. Graham Ward (Coaching Practice Director, INSEAD Global Leadership Centre, UK) discussed the pathways to transformation. In yet another session, Prof. Paul Forster (Hongkong University) discussed why should MBAs meditate. Prof. Firdos T. Shroff (Pune University) highlighted the ways in which we can kindle the spark within ourselves through calm mind, active body and alert intellect. He said that leadership is from within, while management is from outside. Swami Shashankananda (Ram Krishna Mission Ashram, Ranchi) elaborated on the necessity to spiritualise the society while Shri Shri Shudhanand Brahmachari (Founder - LD Life Misison and Stress Management Academy) said that it is a leadership lost decade. Good human beings are in great scarcity and there exists global leadership crisis. It is all because of lack of emotional quotient and lack of self awareness. Mindful leadership is the need of the hour. Self management preceeds Leadership responsibility.
Shri Rakesh K. Mittal (IAS) talked about positive thinking for excellence for which we need integrity, knowledge, trust, accessibility, compassion, fearlessness, patience and acceptance. B. K. Usha (Brahm Kumaris World Spiritual University, Mount Abu) discussed various dimensions related to knowledge, wisdom, leadership, spirituality and management in the other sessions.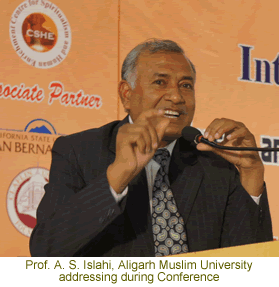 Prof. A. S. Islahi (AMU) threw light on traits of leaders and insight of spiritual epics of different religions. The technical sessions comprising of the paper presentations were also held simultaneously throughout the day. The Director, SMS Varanasi, Prof. P. N. Jha felicitated the dignitaries by presenting a shawl and memento.

On the final day, Prof. Lotta Dellve (KTH Royal Institute of Technology, Sweden) discussed at length the leadership issues in health care organisations with special reference to those existing in Sweden. In her presentation on "Caring for the Carers", she highlighted the need for value based leadership. She also brought forward a work engagement model and discussed the implications of corporate social responsibility in the health care sector.
Father Eugene Joseph (Diocese of Varanasi Education Society) aired his views on transformational leaders for human well being. The transformation shift should encompass responsible autonomy, authenticity, humility and professional will and emotional intelligence, he added. For achieving it he hinted at convergence of spiritual wisdom. He also talked about the spiritual wisdom of the holy Bible which suggests strength of self mastery, action and relationship. According to him, organisations should be interdependent, interactive inclusive. He also said only spiritually awakened leadership can transform the society and there is a compelling urgency for the same.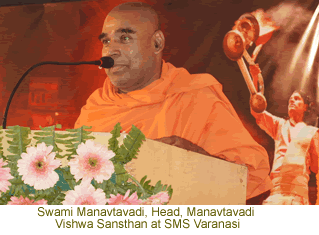 Shri Nithya Turyanand discussed the four gems in Vedic Sutras for life management which are Integrity, Authenticity, Responsibility and Enrichment.
Swami Manavtavadi (Head, Manavtavadi Vishwa Sansthan) shared the deep rooted ancient Indian Spiritual Concepts and shared the efforts made by Manavtavadi Vishwa Sansthan in the recent past.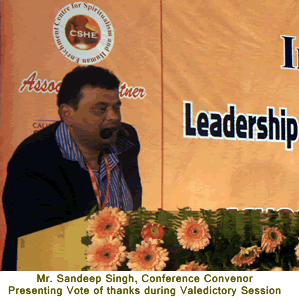 After this, a series of paper presentations by students and research scholars added value on the final day. In the Valedictory Session, the guests present were Prof. Yugal Kishore Mishra (Ex. Vice Chancellor, Rajasthan Sanskrit University and currently HOD of Vedic Studies, Sampurnanand Sanskrit University, Varanasi), Shri L. B. Rai (Chief Personnel Officer, DLW Varanasi) and Maureen Chen (Future of Power, Australia).
The awards and certificates apart from the honours to the visiting guests were presented by the Director, Prof. P. N. Jha.
Mr. Sandeep Singh, Associate Professor & Coordinator of Centre for Spiritualism, SMS Varanasi presented the vote of thanks.